This is Julia Berbling.
She is mi amiga. Who happens to not have a left hand in this photo...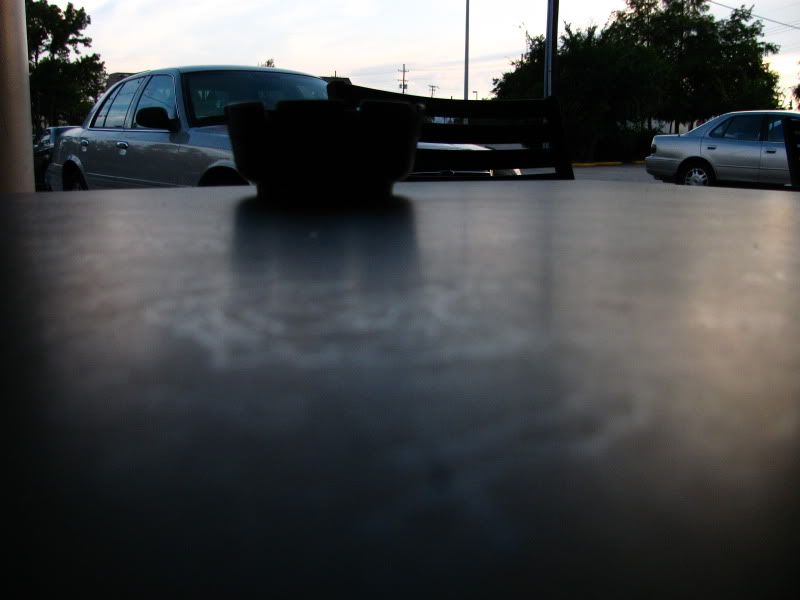 We talk a lot about a lot quite a lot. It's nice to see her because we always tend to simply migrate around town, yet do the same thing in every location...which is talk-about random but important also unimportant topics of everything and anything.
This was at the Lakefront. Do you see the really long Dinosaur monster fellow????
This blog, despite the fact that I have given allusion to being about a one, Julia Berbling, is not. Infact, it is simply about Julia's shit.
She collects a lot of it...and how wonderfully fascinating and random and beautiful it all is.
BUT FIRST!
As Julia and I walked into her garage after we left the lakefront I spotted this little bugger on the ground upside down.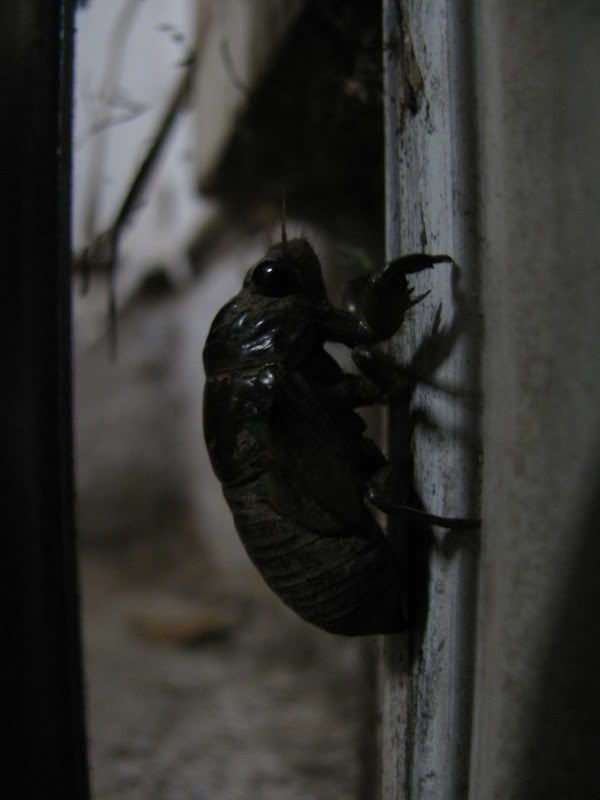 A CICADA!!!!!!!!!! I had never seen one in real life before. Some also call them Locusts... specially after they shed their skin and grow wings. They make that beautiful noise that fills the Louisiana evening. Most I think find them to be aggravating and are said to be the noisiest of all insects. I got a book a while back off of that "take this book because no one apparently likes it anymore" shelf at the library on North American Bugs and there is a section on the cicada. It says that their sound-producing mechanism is probably the most complex in the animal kingdom and that the female, in most species, is mute. But what's most interesting to me about this insect is its life cycle. With the different species it kind of varies but because this little guy was found in the South he's more likely to have the more interesting version. They have either seventeen year cycle or thirteen year cycle!!!!!!!!!!!!!!! The females lay their eggs in paired slits which they make in the twigs of forest and orchard trees. Nymphs emerge in about six weeks, drop to the ground and , aided by their strong fossorial front legs, dig into the soil at or near the base of the tree. Here they remain for the thirteen or seventeen year period, feeding upon the roots of the tree. They then emerge, plump and amber in color, sometimes as many as 40 or 50 per square foot of soil..................................................climb up the bark of the tree or onto pilings, and transform to adults. In four tho six weeks, having feasted on tender twigs and leaves, they mate and disappear.
It also says that they are safe to be eaten by man...if need be.
anyway. We saw him struggling so after the photo op we brought him to a near by tree so that he may transform.
The next morning we went out to find this:
ahhhh!! How wonderful is that?????!!!
And since we are on the subject of cicadas in the middle of suppose to be talking about all of Julia's great collections...
Here is what a cicada adult looks like: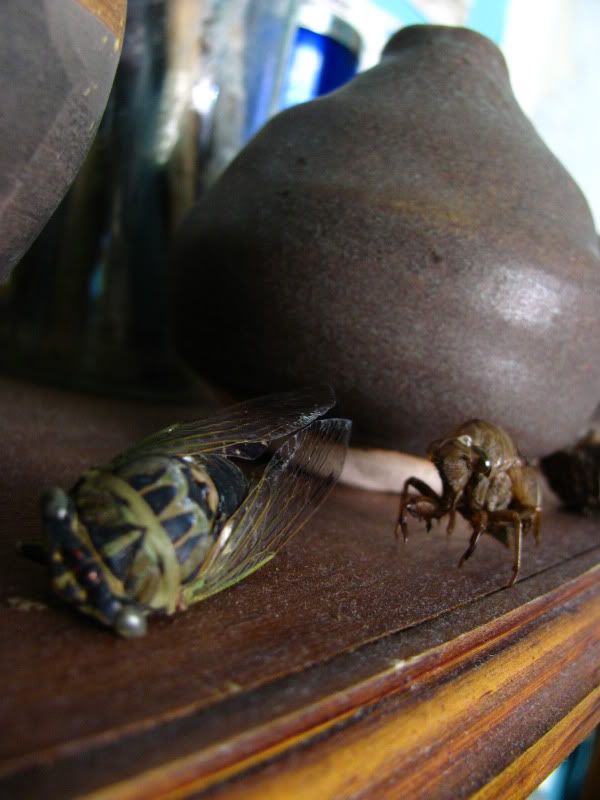 That's his butt.
She also has a Dung Beetle :D that looks like a rhino and a triceratops!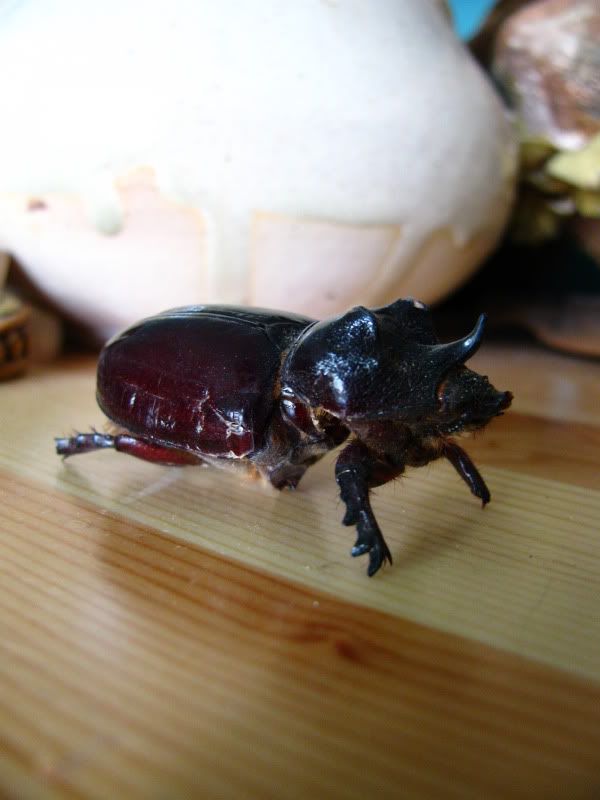 And a Click Beetle. Atleast, I'm pretty sure its a Click Beetle. Some type. possibly.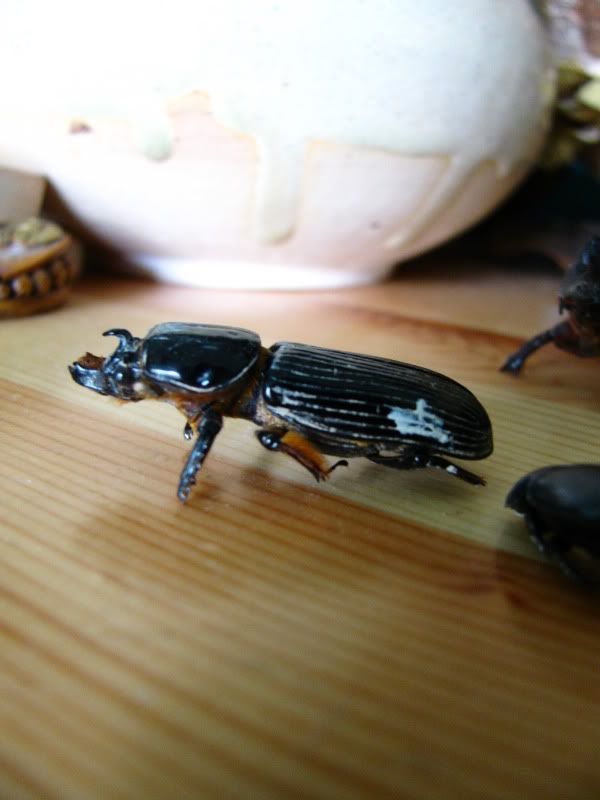 There was once a great fascination of wasp nests...
Then it moved to moths.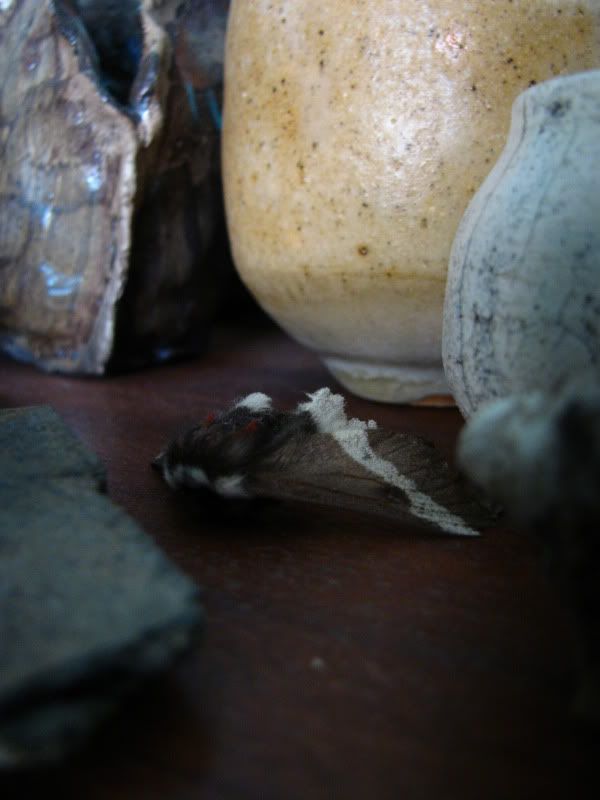 and butterflies
and seedpods and fungi and birds and owls and the moon and tree bark and shadows and OF COURSE ceramics everything else that's wonderful and great of course, fascinating.
Julia.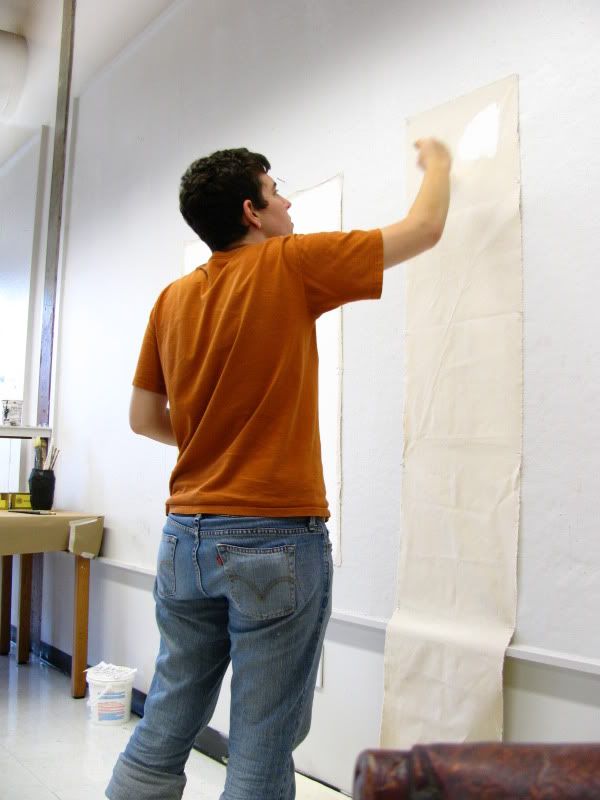 and I drew this on my leg one night.
and THIS is the amazing Mr. Owl in all his glory in a very blurry, but I think cool looking, picture.
Betty Davis - F.U.N.K.